Aortic Aneurysm
What is an Aneurysm?
An aneurysm is an abnormal ballooning of an artery wall to 1 ½ times the normal diameter. This most commonly occurs in the abdominal aorta, the largest vessel in the body, which carries blood from the heart to all the abdominal organs as well as the legs. Abdominal aortic aneurysm (AAA) affects between 3 and 9% of the population being much more prevalent in males and especially if you have a close relative who had a AAA. It is estimated that 1.5 million Americans have a AAA but only about 50% of those have been diagnosed.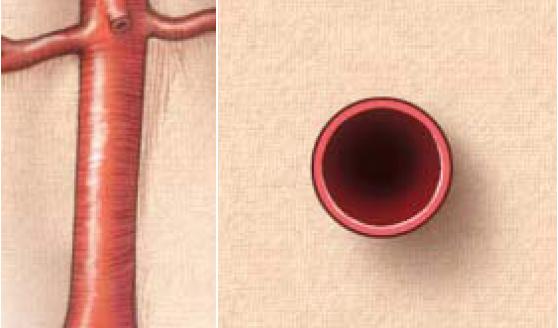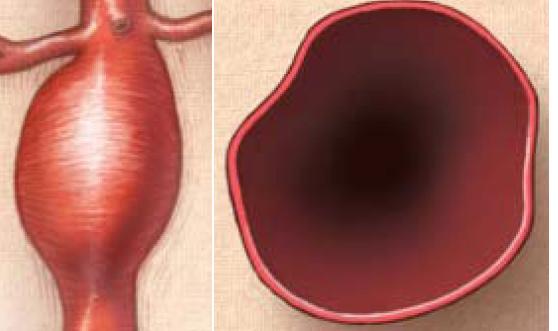 Normal aorta Dangerous ballooning of the artery
If this is such a large problem, why isn't routine testing performed? Aortic aneurysms develop slowly and are often asymptomatic, leaving the problem largely undetected and untreated. Few doctors routinely inquire about aneurysm histories in patients, making this one of the most neglected diseases. Aneurysms occasionally cause pain or discomfort by the pressure put on surrounding structures (like back pain if it irritates the nearby backbone) or small blood clots from inside lining of the aneurysm may break off and block the circulation to the legs or feet. Unfortunately, most aneurysms cause NO SYMPTOMS until they rupture. Rupture results in massive internal bleeding usually causing severe pain with shock and loss of consciousness. Unfortunately, the majority of people with AAA rupture will die so it is important to know if AAA is present. An AAA is usually discovered on physical exam by the physician, or during an x-ray examination done for other reasons. If you or your physician are worried that you might have an AAA, an ultrasound can easily detect this problem.
We know that aneurysms below a certain size are unlikely to rupture so if an aneurysm is discovered, regular follow-up is required to determine if the aneurysm is enlarging.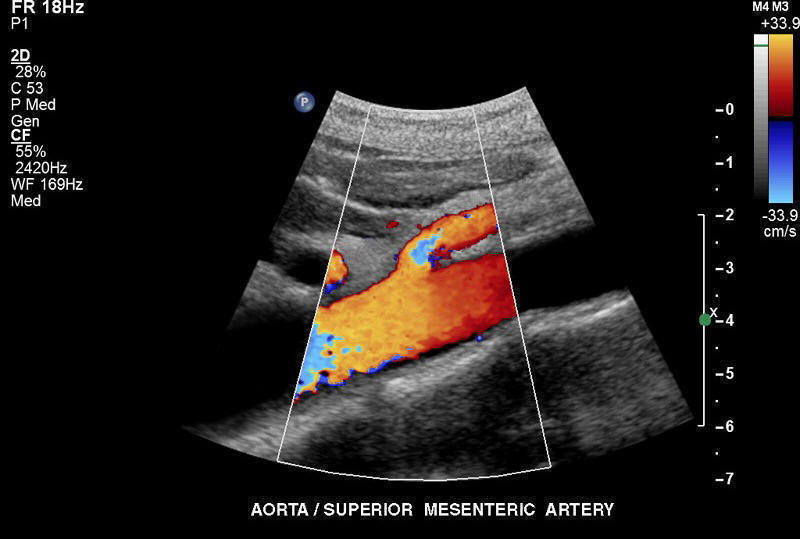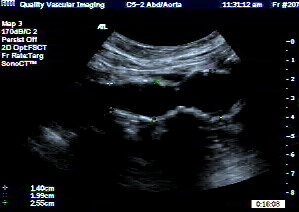 Figure 1 Figure 2
Fig. 1 A duplex ultrasound of a noraml aorta - note the smooth uniform walls
Fig. 2 Note the variable dimensions of this aorta - called "aortic ectasia". While not quite large enough to be classified as an aneurysm, this should be watched with regular duplex scanning.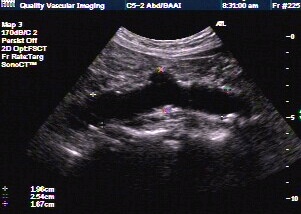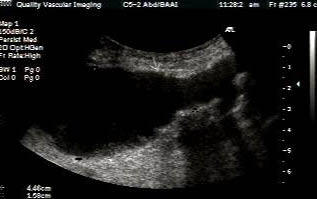 Figure 3 Figure 4
Figure 3 A small saccular aneurysm of the abdominal aorta
Figure 4 A large abdominal aortic aneurysm that would be considered for intervention
Aortic aneurysms can be successfully treated - If identified early enough!
Aneurysms have been studied for many years so we know a good deal about them. For instance, aneurysms below 5 centimeters are very unlikely to rupture. So aneurysms less than this need regular follow-up with duplex ultrasound every 6 - 12 months to check for enlargement. For aneurysms larger than 5 centimeters, repair is usually recommended unless the person has other conditions that would make the procedure more risky, such as bad heart disease for example. Repair is traditionally done surgically through an incision in the abdomen. A synthetic graft is sewn in above and below the aneurysm, excluding it. This procedure has been performed for over 40 year and is highly successful. More recently, endovascular repair is being performed. In this operation, a synthetic graft is the graft is inserted inside the aneurysm through a small incision in the groin. Special stents hook the graft in place above and below the aneurysm, effectively excluding it. This procedure does carry its own set of risks and complications and can not be performed in all patients but is an exciting development in the treatment of this life threatening disease.
Screening can save lives! Due to insurance regulations, physicians generally cannot order tests unless there are specific signs and symptoms of disease - a problem for detection of aortic aneurysm and much peripheral vascular disease. However, according to a study published in The Lancet, a British medical journal in November 2002, thousands of the elderly individuals with abdominal aortic aneurysms could be saved each year with regular screening programs. Today, most aortic aneurysms can be detected with a simple, painless and effective ultrasound-screening test. Find out today if you have the "silent killer!"