All about
Angioplasty and Stents
If you have had an angioplasty with or without a stent, follow-up is typically recommended to check for initial results as well as longer term success. Ultrasound, because of its non-invasive nature and its ability to evaluate flow patterns, is the test of choice and QVI is the place to have this follow-up performed. Because of our expertise, QVI is a partner with Massachusetts General Hospital and a company called VasCore for the purpose of obtaining studies and data from patients who have had an experimental device placed in an artery. Manufacturers of these devices are required to show the efficacy and durability of all stents prior to approval to be used in everyday clinical practice. Ultrasound is the preferred method to determine the effectiveness of these procedures because it is noninvasive, relatively inexpensive, and most importantly accurate. Additionally, it shows the anatomy in great detail as well as the physiologic effects of any pathology and/or improvement following the procedure. QVI is a certified laboratory for performing follow-up studies for virtually all stents currently undergoing FDA approval for clinical use. Our vast experience with all aspects of vascular disease and testing procedures as well as the expertise of our sonographers allows us to provide the detailed information required by VasCore (who complies the data) and the FDA requirements.
What is a stent?
These include a variety of devices but are generally a wire mesh tube that is inserted inside the artery. Treatment of an arterial blockage with a stent basically involves an interventional procedure that uses a balloon catheter to perform an angioplasty. A wire catheter is inserted in the artery usually through a vessel at the groin (although different locations may be used). A balloon catheter is placed over the wire and the balloon is positioned in the area of narrowing. The balloon is inflated, expanding the narrowed opening, then deflated and removed. Sometimes, this is all that is needed however studies show that a significant number of balloon angioplasties will re-narrow and sometimes fairly quickly. A large number of studies have shown that in many situations, placing a stent in this area will serve to "hold the artery open" and minimize the incidence of re-narrowing. There are many variations of stent design and materials. Recently, drug impregnated stents have shown promise in limiting the amount of re-narrowing that may occur.
Fig 1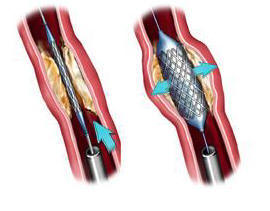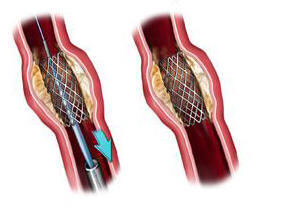 Figure 1 - The stent is placed over the balloon and positioned in the narrowed area. The balloon is inflated which squeezes open the narrowing. When the balloon is deflated, the stent is left in place to help hold the artery open.
All stents should have follow-up, not just experimental ones. Even with the best technique, re-narrowing can occur and documentation of a normally functioning stent is important. If you have had an interventional procedure, you should have your follow-up testing with us. These vessels are different than evaluating native vessels and because of our experience with follow-up of stented arteries, we are the experts in this procedure.

"Gee, this sounds like a great treatment - Why aren't all blockages treated this way?"
There are risks and benefits to every treatment and ultimately what works best depends upon the patient, their overall condition, and the lesion(s) in questions. You doctor is best suited to explain the risks and benefits of each potential choice.
Potential Benefits
Compared to surgical interventions such as bypass surgery, balloon angioplasty and stent placement is less invasive and a relatively low-risk, lower-cost procedures.

These procedures are performed using local anesthesia; general anesthesia is usually not required.

No long surgical incision is needed—only a small puncture in the skin

Recovery is generally far quicker
Risks -
Major complications following angioplasty are uncommon but.....
I

nserting the catheter can lead to injury of the artery

The balloon catheter also poses a risk of blood clots or tearing the artery.

When angioplasty is performed with or without a stent, blockages can recur, although most of these arteries can be opened again successfully.

Heavy bleeding from the catheter insertion site may require special medication or a blood transfusion.

There is a risk of stroke when angioplasty and/or stenting are performed on the carotid artery

A relatively rare complication associated with balloon angioplasty is abrupt vessel closure. This blockage in the area treated by the balloon angioplasty typically occurs within 24 hours of the procedure. If it happens, treatment with medication into the artery to dissolve clots followed by angioplasty or stenting may be appropriate. In some cases, emergency bypass surgery may be needed.

Other rare complications include heart attack and sudden cardiac death.
What are the limitations of Angioplasty and Vascular Stenting?
Angioplasty with vascular stenting is just one way to treat narrowed or blocked arteries. Medications and exercise are often the first step in treating blockages.
Angioplasty does not reverse or cure the underlying disease of arteriosclerosis. It is important for patients to make lifestyle changes and actively control risk factors such as eating a healthy diet that is low in saturated fat, getting adequate exercise and not smoking. Individuals with diabetes, high blood pressure and high cholesterol need to follow the treatment plan prescribed by their healthcare providers.
Angioplasty and stenting may have to be repeated if the same artery becomes blocked again, a condition called restenosis.
Angioplasty and vascular stenting for peripheral arterial disease (PAD) affecting arteries in the pelvis and legs are less successful when there are multiple leg vessels that are narrowed or when small vessels have to be opened. Any patient with PVD can benefit from eating a proper diet, getting regular exercise and controlling blood cholesterol.
Angioplasty and stent placement in the carotid artery has been approved by the FDA, but there is not much long-term data to know how well this works, or if there are potential complications that can develop from stents being placed in the carotid arteries. A filter device is used during stent placement to try and help keep blood clots and other plaques from passing into the brain during the procedure, thereby lowering the risk of stroke. In contrast, surgical repair has been done for many years and has been proven effective and safe when done by skilled surgeons.
If you have vascular disease severe enough to warrant intervention, you should discuss what the potential risks and benefits are in your particular situation with your physician!