QVI Case of the Month!
For past cases, click here

Patent History:This pleasant 68 year old female presents with a long history of exertional leg pain with absent ankle pulses. She was therefore referred to the lab for a bilateral lower extremity arterial duplex exam with suspcion of peripheral arterial disease. Upon careful questioning, she also complains of nocturnal cramps. She denies any pertinent cardiac history and has never smoked.
Physical Exam: The femoral, popliteal and DPA pulses are easily palpable however the PTA is absent bilaterally. Radial pulses were equal; brachial pressure was 138 mmHg on the right and 139 mmHg on the left by Doppler. There is mild edema present bilaterally, right equals left. There are a number of spider and reticular vein clusters bilateral lower extremities as well as some small to moderate sized varicosities. No stasis changes.
Left Leg Images-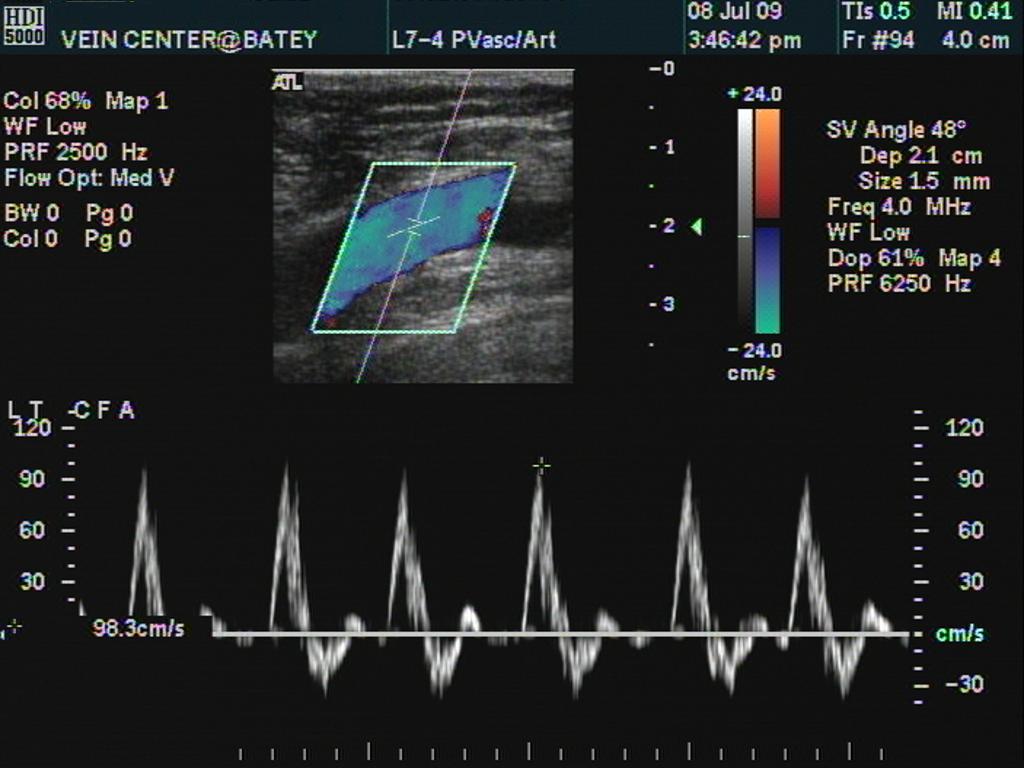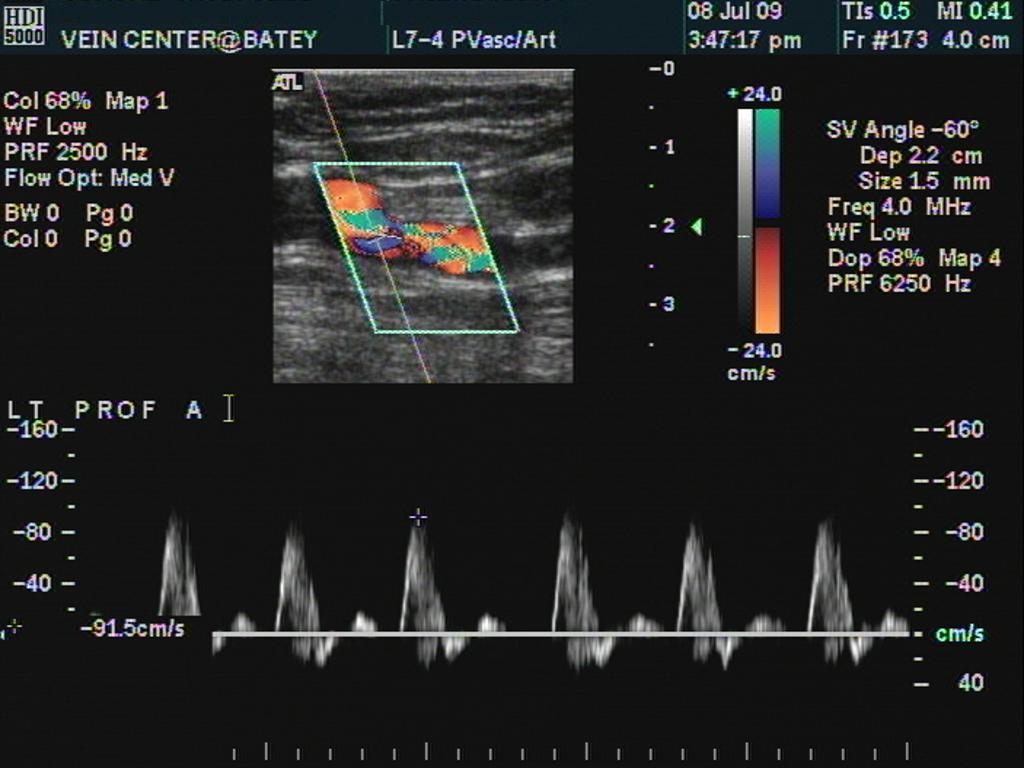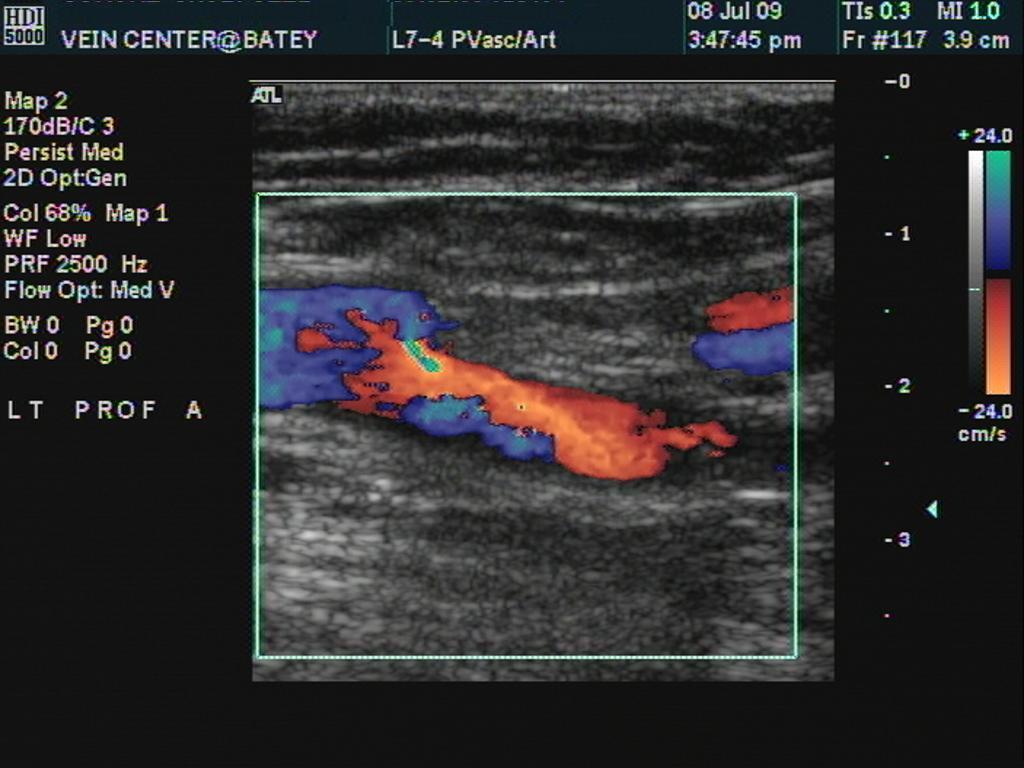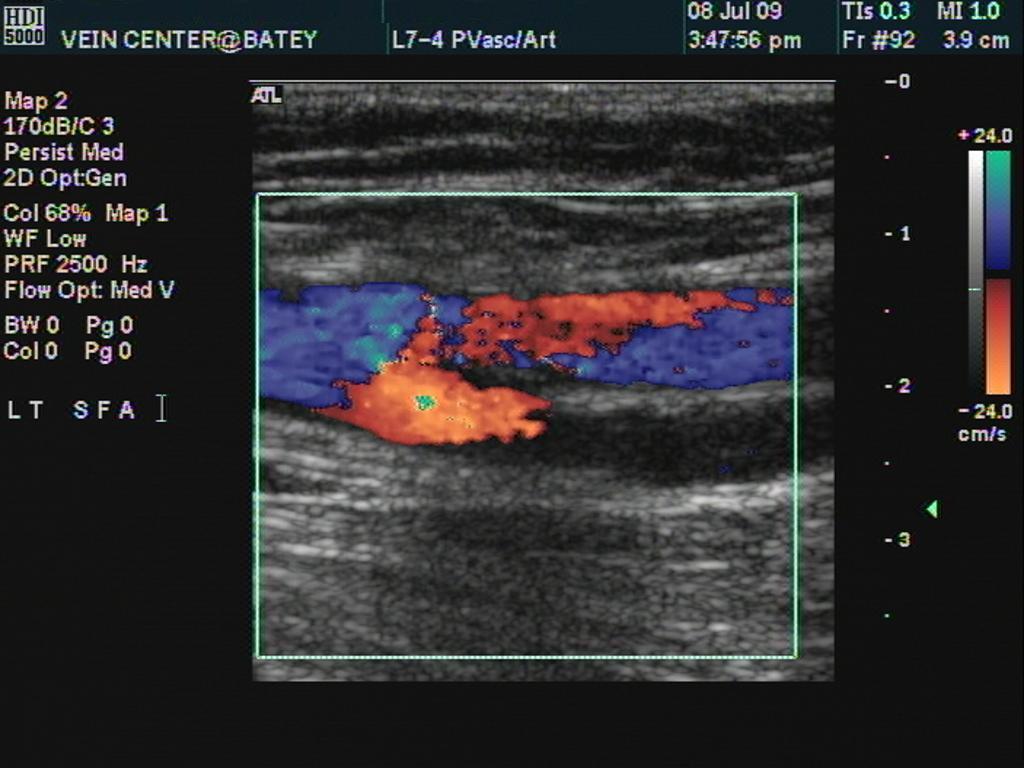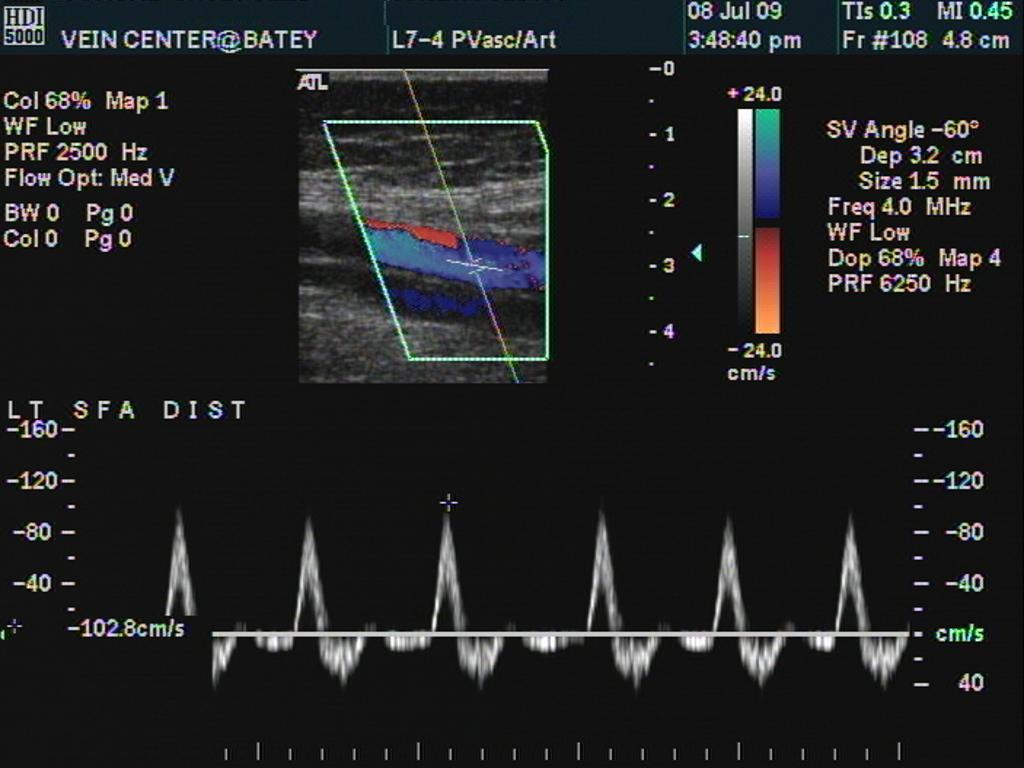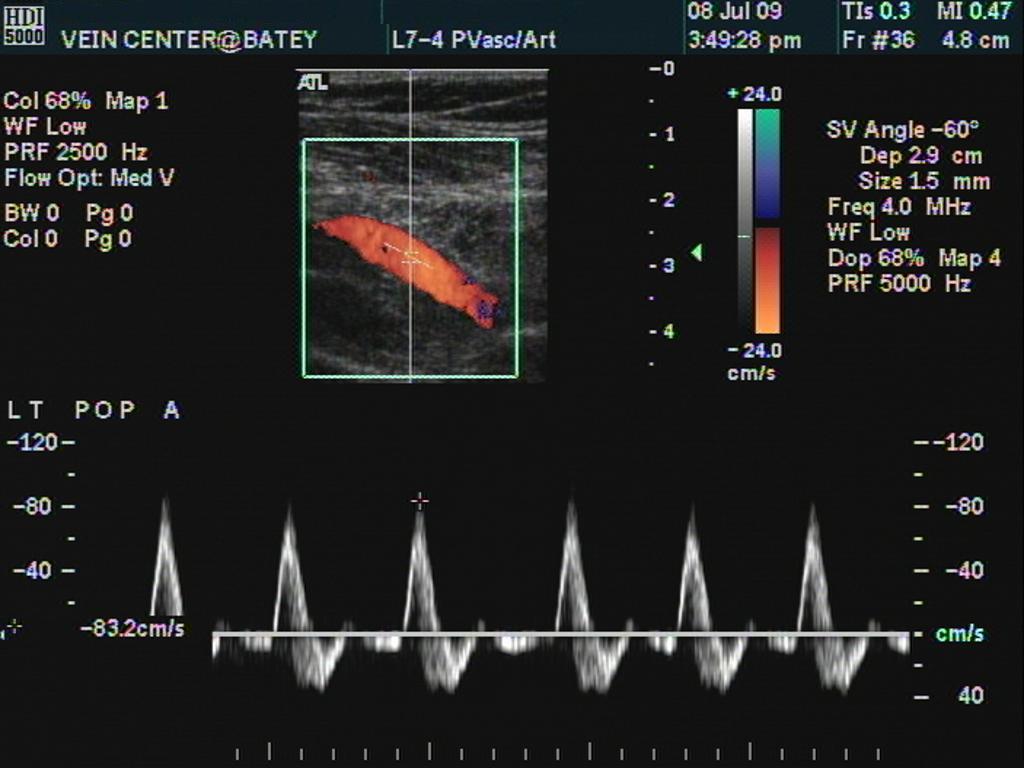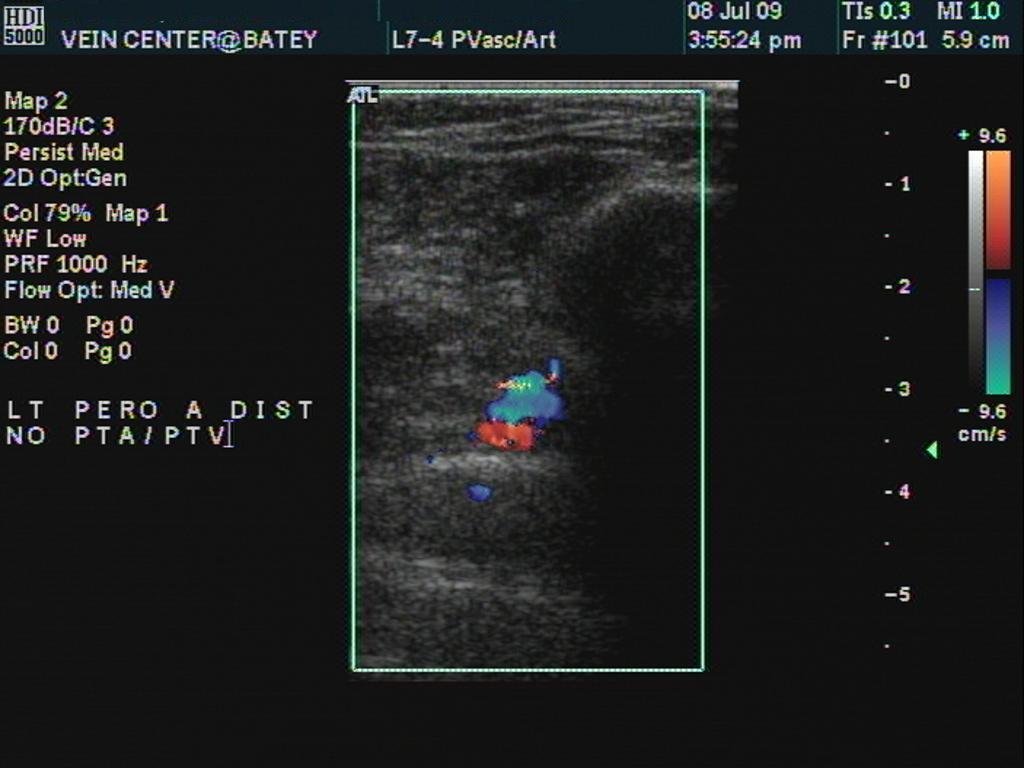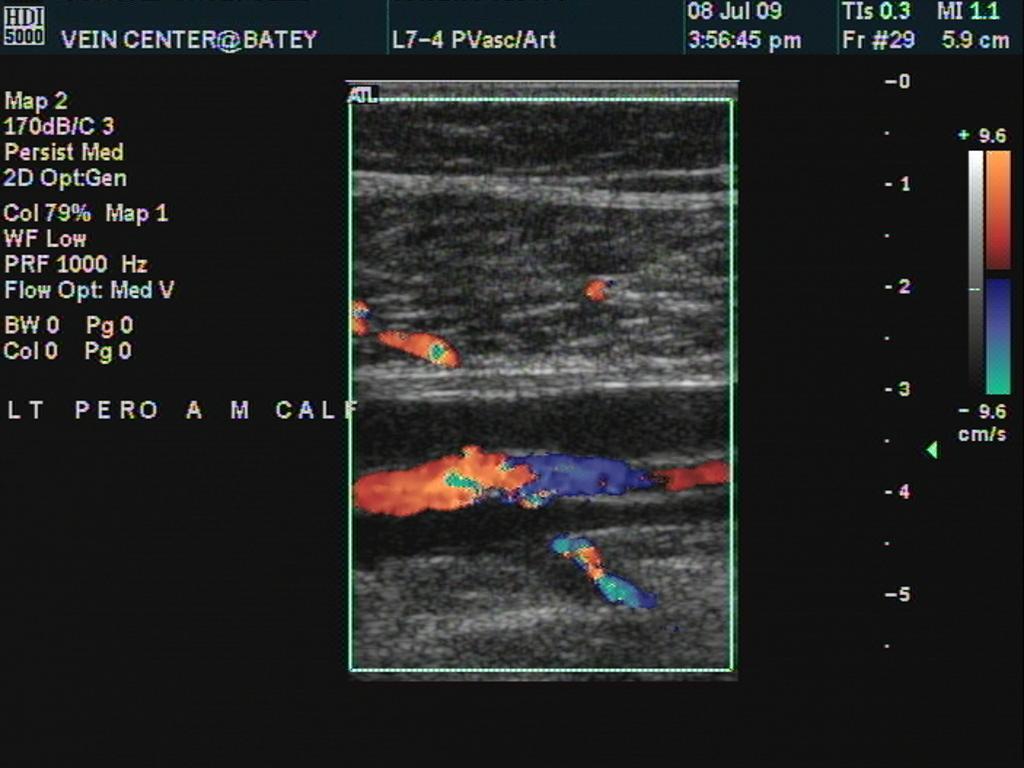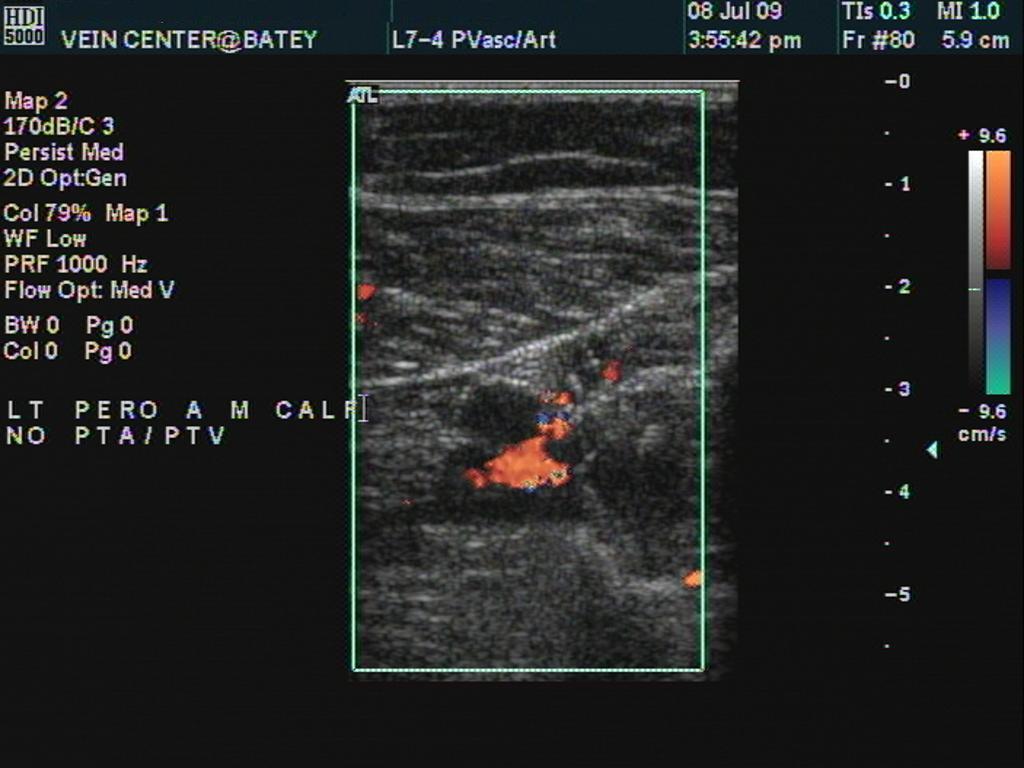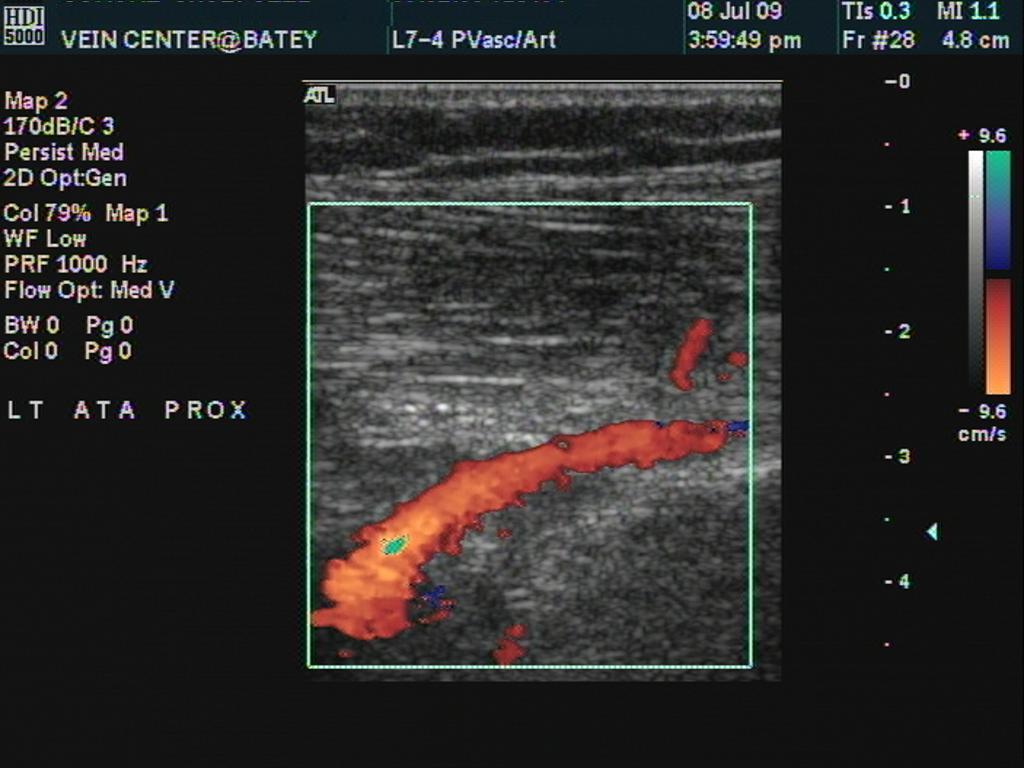 Right Leg Images -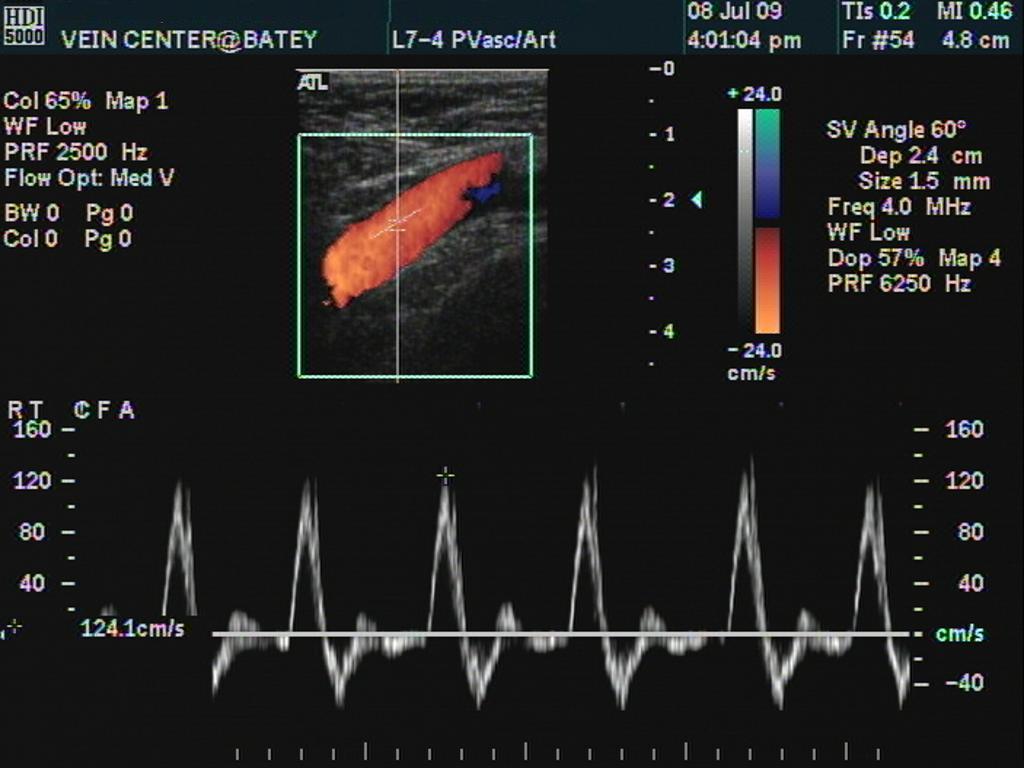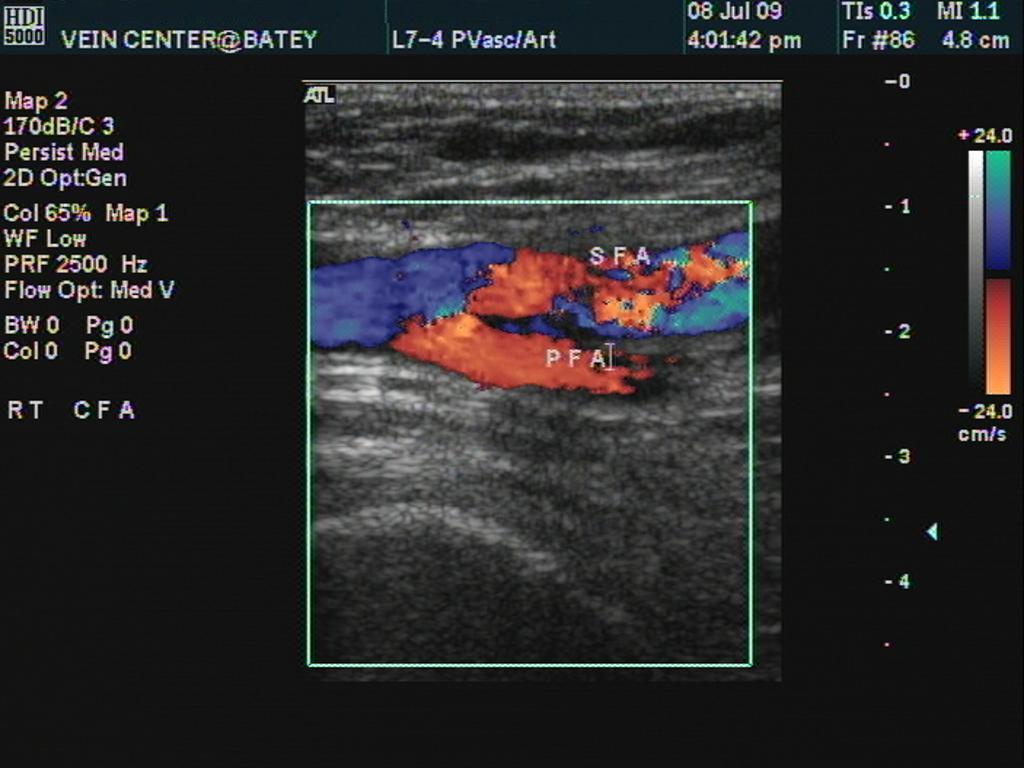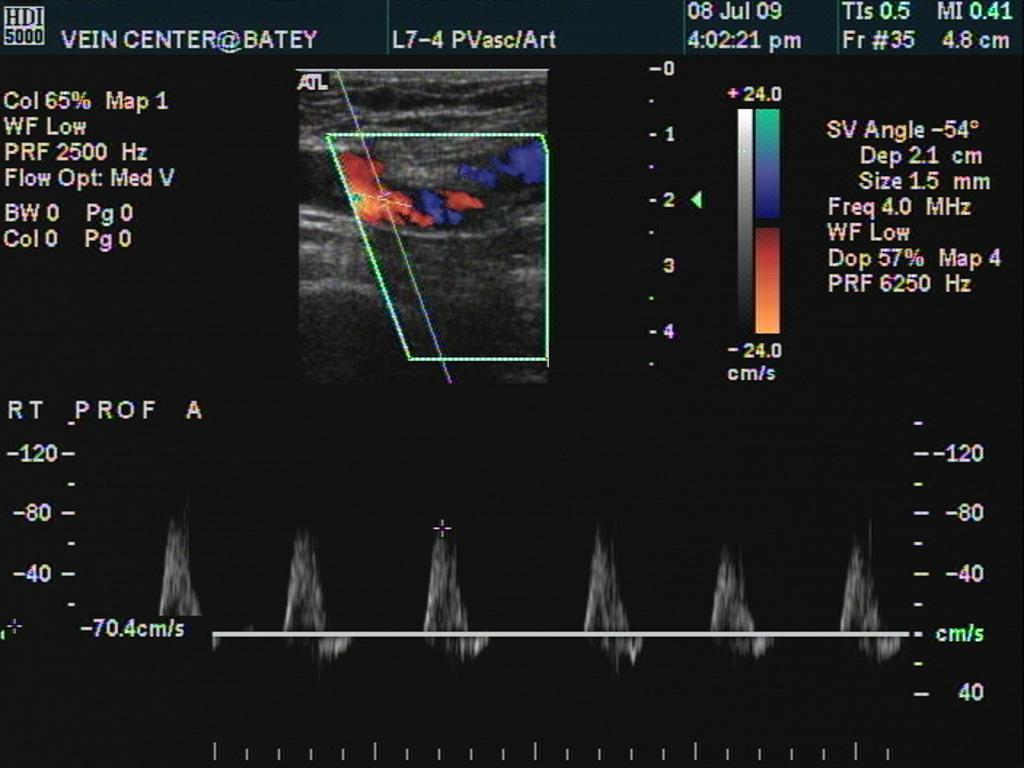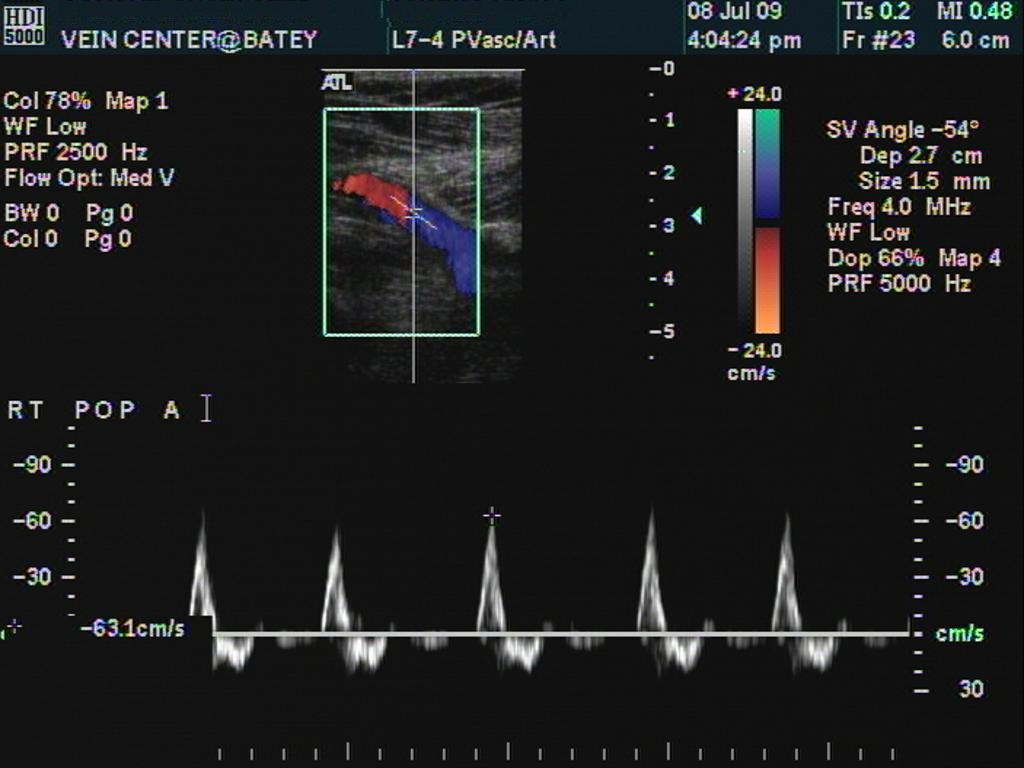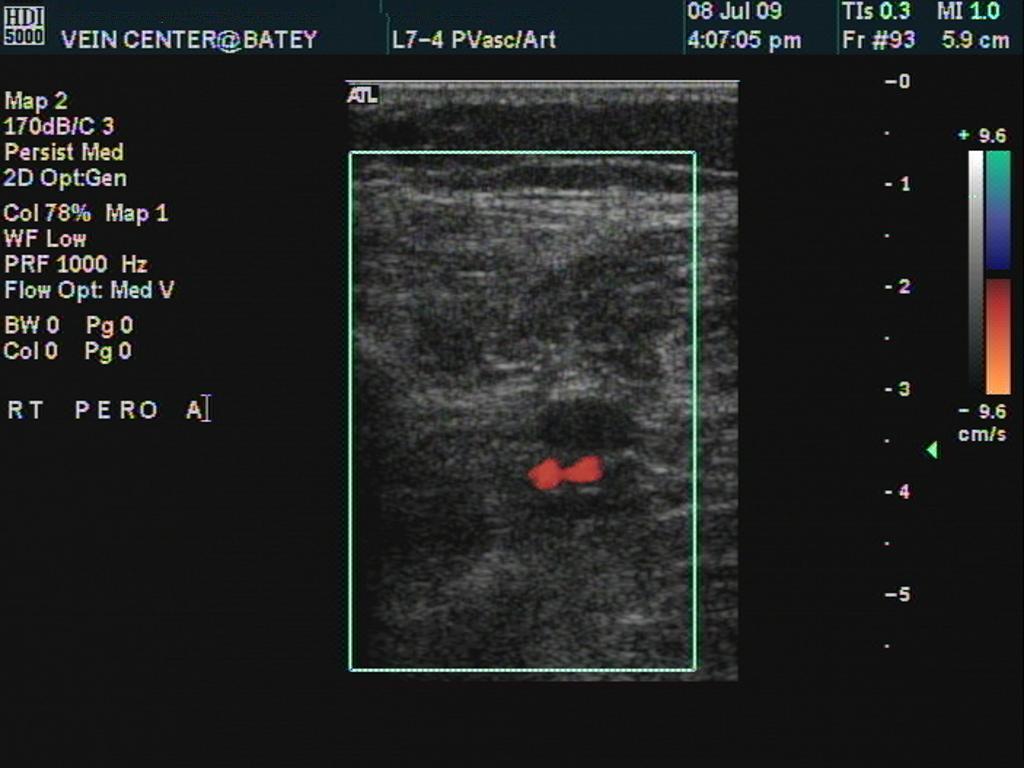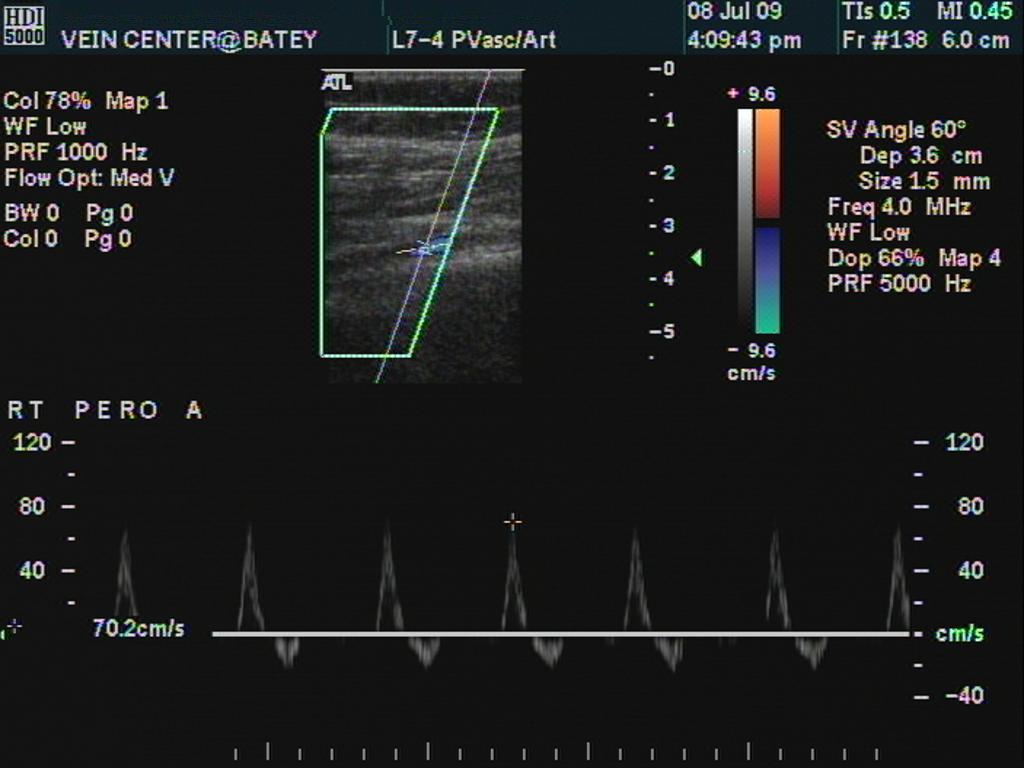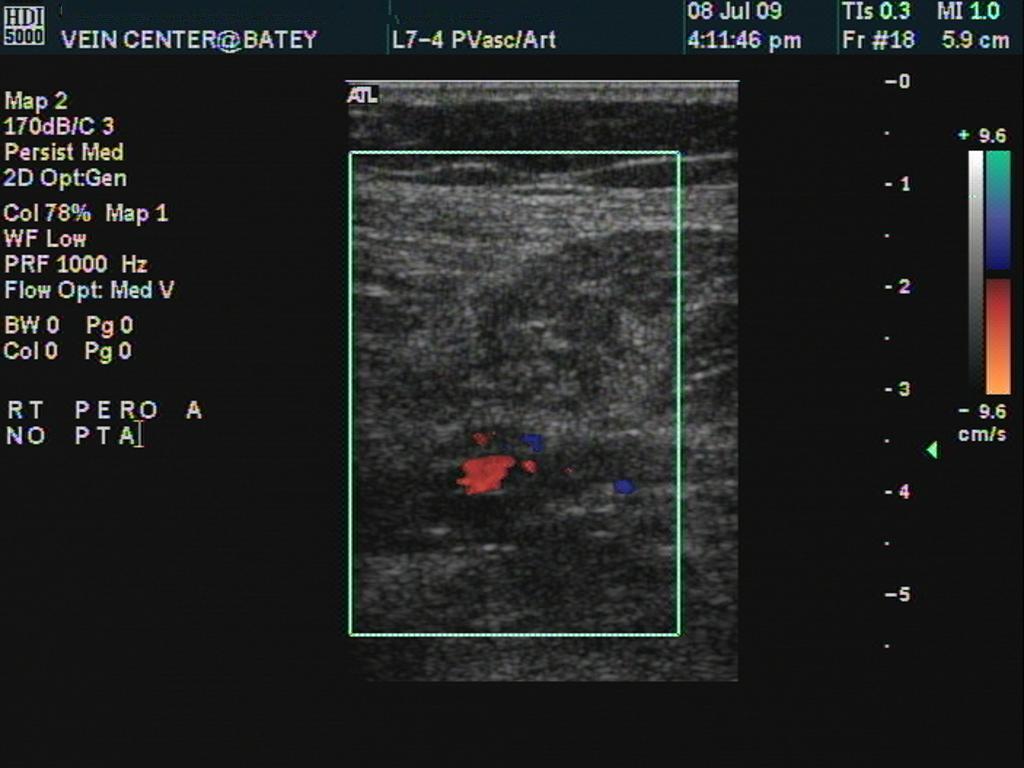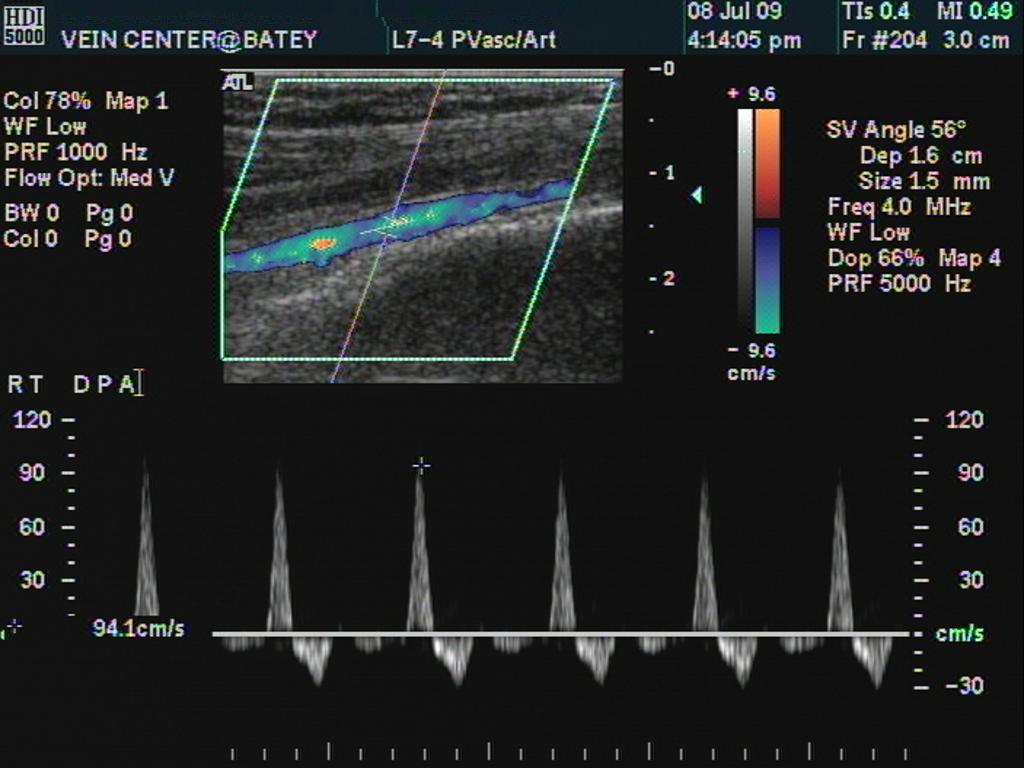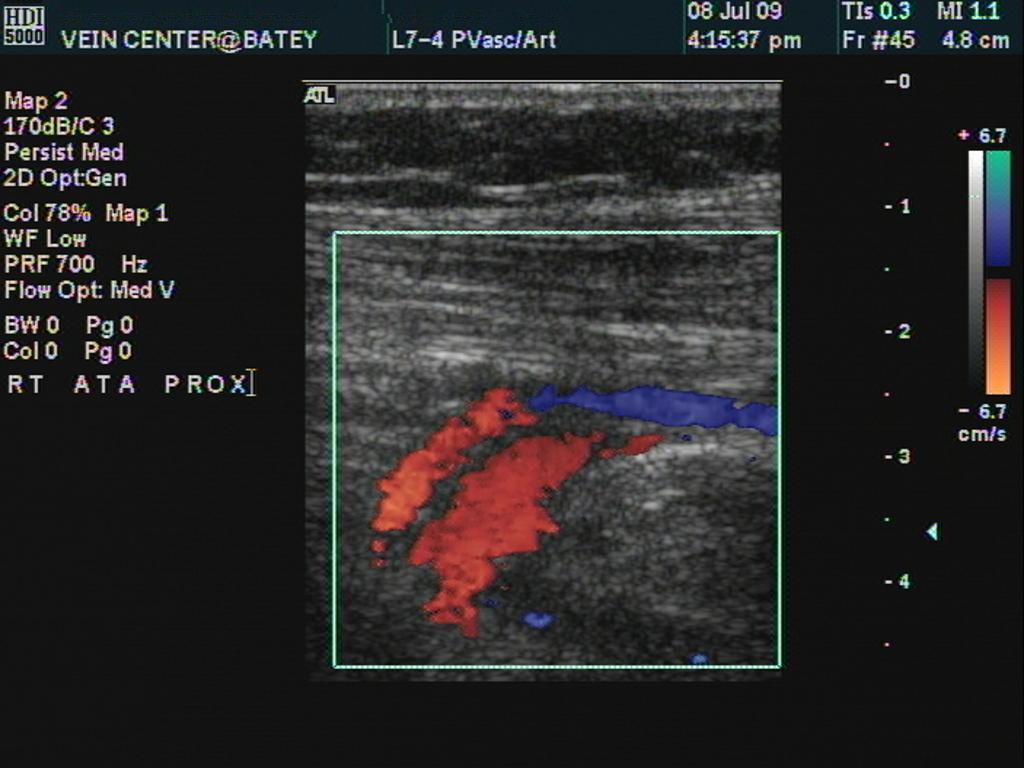 Findings:Pulse volume recordings were essentially normal bilaterally. Resting ankle brachial indices (ABI's) were as follows: unobtainable PTA and 1.25 DPA on the right and unobtainable PTA and 1.21 DPA on the left.
Color flow duplex examination of the infrainguinal arteries of the bilateral lower extremities revealed an essentially normal examiniation with only very minor diffuse disease through the distal superficial femoral arteries with estimated stenosis of 20% or less. However , only two vessel run-off is identified. The posterior tibial artery could not be identified despite a diligent search and thought to be congenitally absent. Additionally, the peroneal artery is noted to be large in size and the dominant run-off vessel to the foot. Color flow Doppler demonstrated normal flow patterns and spectral analysis confirmed normal velocities and crisply biphasic or triphasic flow throughout. Findings were virtually identical bilaterally.
Discussion:The awareness of anatomic variations in popliteal artery branching patterns is important because certain variations may be limb threatening. Although popliteal artery branching variations are rare there are two major variations: a trifurcation or high bifurcation of the anterior tibial artery and a hypoplastic-aplastic posterior tibial artery. The latter of the two holds more clinical significance due to possible compromised distal blood supply. The actual incidence of a hypoplastic-aplastic posterior tibial artery ranges between 1.5-11% according to anatomical studies. In most cases the peroneal artery was found to be hypertrophic and consequently is referred to as "great" peroneal artery. According to JCB Grant, "absence of the posterior tibial artery with compensatory enlargement of the peroenal artery occurred in 5.2% of 211 limbs." The peroneal artery usually either joins or replaces the posterior tibial artery distally and typically continues to the sole of the foot as the lateral planter artery. In such a case the medial planter artery is generally found to be absent. Interestingly there is a reported correlation of up to 85% between idiopathic clubfoot and an absent anterior tibial artery, making it the most common vascular abnormality associated with idiopathic clubfoot.
When evaluating patients with duplex imaging, it is important to be aware of common and even most unusual congenital abnormalities. Without careful evaluation, this patient could have been diagnosed with an occluded posterior tibial artery. Of course, total vessel occlusion can only be diagnosed when a vessel is imaged and no flow can be documented. Outflow collateals at the point of occlusion, inflow collaterals at the point of reconstitution and a diminished waveform distal to the occlusion are all diagnostic parameters we use to make this diagnosis.
QVI Case of the Month!
For past cases, click here